Key Features: It includes many features, which are given as;
The ability to flag message with a low, high, and normal priority and to use these priorities in mailbox rules as well as smart mailboxes.
Advance mailboxes that used spotlight technology to sort mail into folders.
Parent control to specify who is allowed to send email to children.
HTML message composition.
Tool for resizing images before they are sent to avoid oversized email attachments.
Now come to the most important part and i.e. – How do I configure email account on MAC using Apple Mail.
Let's begin
Step 1: Firstly, Open Mail and if you haven't added a new account yet, you will be taken directly to the Add Account prompt. And if you are adding an additional account, or this prompt doesn't otherwise load automatically, you will need to choose Add Account from the Mail menu.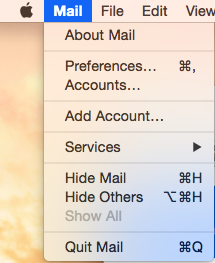 Step 2:Form the Add Account prompt, select Add other mail Account. Or press continue.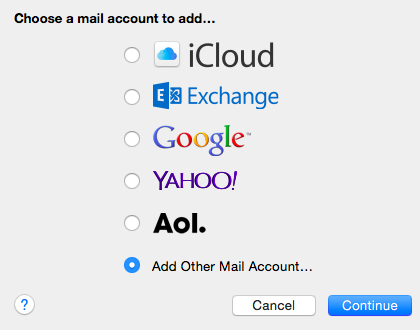 Step 3: Here enter your email account information.
Full Name: You fill this option according to you.
Email Address: Your full email address.
Password: The password for your email account.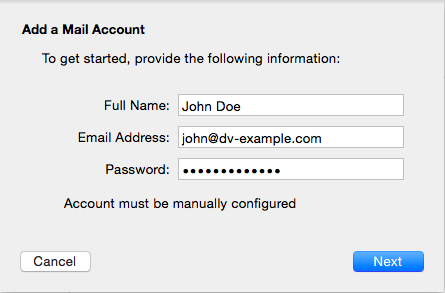 Now click the create button, after filling all the above required option.
Step 4:Here Mail will attempt to contact the Mail Server. The default search uses "autodiscover.anyexample.com"- unless you have this subdomain already created & SSL Certificate installed, this will not work.
Now, enter your incoming mail server information: You just follow all the steps carefully.
Account Type: We recommend connecting via IMAP instead of POP.
Mail server: Use IP address or mail.domain.com.
User Name: Your full name address.
Password: The password for your mail account.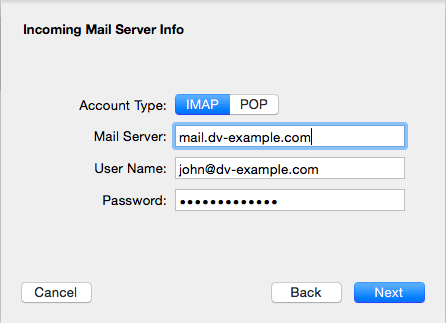 Step 5: Here, click the next button to proceed. You will be taken to a second screen to configure additional details.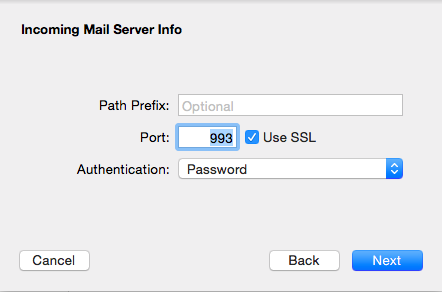 Path prefix: Leave this area and go to the next option.
Port: You will want to connect by using the correct port based on the setting you have selected.
POP: 110 or 995 if you are using SSL.
IMAP: 143, or 993 if you are using SSL.
Authentication: Be sure that Password is selected from the drop down menu.
Step 6: Next process, now we will configure the Outgoing Mail server.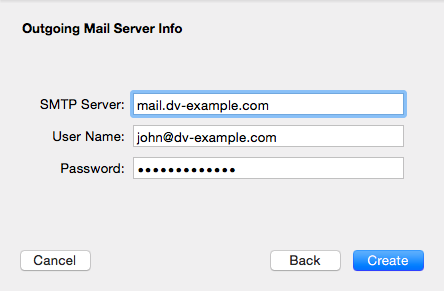 SMTP server: Use your IP address and mail.yourdomain.com.
User name: your complete email address
Password: The password that you assign in the email account.
Step 7: Tap create button when you complete the all above options.
Step 8: Your email account has been created, but you will want to verify a few other steps before you get started. Select Preferences from the Mail menu, and click on the Accounts click from the preference window.
Step 9: Now, select your new account from the left hand column.
Step 10:Press the Advanced tab and uncheck the box to Automatically detect as well as maintain the account settings.
Step 11: Go to the back in Account information tab. And now select Edit SMTP server List from the outgoing mail server drop-down menu.
As Apple Mac Mail is the great email application for all Mac users. But some of users have some issue with it like: Mail/iCal/Carnet. So they want to view Apple Mac Mail into other email app. And they are looking for an exact way to find out this problem?
To solve the problem of how to open Apple mac mail emails to other application, a third party converter is available in the online market and to perform this program you just follow some steps and they are: