After completing the discussion of Claws Mail like: Know about Claws mail, features now the question arises in everyone's mind that how claws Mail can be downloaded and installed in Windows?
As all knows that, it is very easy process to download an application over the internet but the task get difficult when you installed it in your machine because each application provides its own method for installing:
Don't worry, all the problem related with installing describe here: In further description I will only give information about: How to install Claws Mail for windows-
The Windows port of Claws mail app is actually part of another package i.e. —gpg4win, which can be downloaded from https://www.gpg4win.org/ this web site and the only way to install Claws Mail application is through this package. Firstly, you can install gpg4win, and it is a good thing as it will allow you to take advantage of encryption with claws Mail. However, there are two (i.e. LDAP and Spell Checking) other features currently missing from the Windows port of Claws Mail.
The Process of Installation is Fairly Straightforward.
At First download the gpg4win file. And if you look at the Windows port page, then you will notice 2 editions to download: more recent snapshot and the official release from the gpg4win team.
Once you download the file, double click it and go with the installation process.
In the below screen shots you can choose what you want to install in your machine. In this article I am just giving you the information about claws mail then make sure the claws Mail option is selected before you press Next.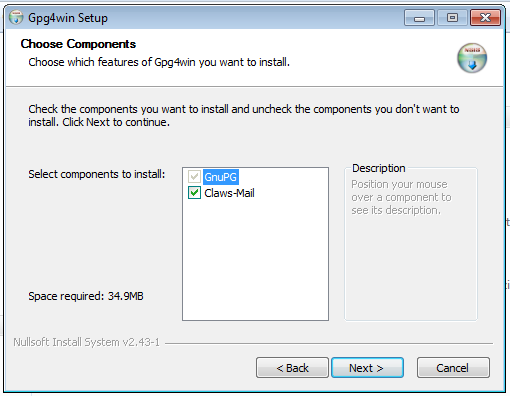 Once the installation process is complete, the first thing that the Claws Mail app will require is the creation of an account. This is done by using a very easy wizard that will walk you through the whole process.
After completion of the process, you have finished setting up your first account, and you will be hailed with the main Window. If as you see, the Claws Mail email app is very similar like any email app you have ever used- on the surface
I must say that Claws email client for Windows is easy to use and effective for all the users. In Windows claws mail app stores mail at the given location by default and using this store location you can able to read claws mail data.
'C:\Documents and Settings\Administrator\Application Data\Mail'
After finding the store location you can easily view Claws Mail on your machine
All the above I provided many information about- Claws Mail. But Claws Mail would only work for home users and not works well for the professional users. Many reasons occur behind that. The main graphic of claws Mail is that it does not attract the normal user. The list of options can be reorganized, so that they can work more logically. All the reasons user thought about one question i.e. how claws mail move mailbox to other email app?
To overcome this critical issue, go with Third party converter application and after using this tool, you will surely solve your problem within few seconds without doing any hard work.
Step-to-Step follow the method of claws mail export to other email app using third party tool.
Download and launch the app.
It allows to browse the location and extract Claws Mail message folder
After you complete the process, now you can open Claws Mail data in another email app.
Conclusion
In this article first discussed some knowledge about Claws Mail and their features. Then provide the information about how to install Claws Mail in Windows OS. At last, method for conversion from Claws Mail to another email app by using third party converter utility.